Eye Exams 
---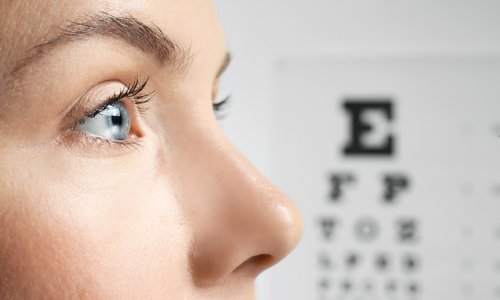 Comprehensive Eye Exam
Eyes change with time. Even those people with perfect vision and healthy eyes may eventually develop conditions that can lead them to need corrective lenses, medication or even surgery. Eye exams can catch these problems in their earliest stages.
As your eye doctor in Tolland, CT, we recommend that all of our patients get regular eye exams. Eye exams help us identify and diagnose eye diseases like glaucoma, diabetic retinopathy, macular degeneration and more. This helps our patients get early treatment and can even save their vision.
How Often Should You Get an Eye Exam?
How often you should get an eye exam depends on your age, health and other factors.
Children should get a pediatric eye exam every year before school starts, and at least once between the ages of 3 and 5 years old.

Individuals with diabetes should have a diabetic eye exam every year.

Individuals at high risk for glaucoma should have an eye exam including dilation at least every two years, and more often if recommended by the eye doctor.

Anyone with glasses should have an eye exam every year to update their prescription.

Individuals who are not in school and who are not at risk for eye conditions should still see the eye doctor, but may do this less often. Your eye doctor can help you decide.
What to Expect During An Eye Exam
Some eye exams involve dilation of the pupils, while others do not. Your eye doctor will let you know whether your eyes should be dilated during your eye exam.
During the eye exam, the eye doctor will ask you about your medical and vision history, and perform a variety of vision tests. These tests will check your eye alignment, check your pupil reactions and test your visual acuity.
If your eye doctor dilates your eyes, this will cause your pupils to widen enough so that your doctor can see inside to check for conditions like glaucoma, macular degeneration and so on.
When the eye exam is over, your eye doctor will let you know if you need prescription lenses. If you do need prescription lenses, or if your prescription has changed, you can then shop for new glasses in the eye doctor showroom.
Benefits of Eye Exams
There are many benefits of getting eye exams, including:
Clear vision. Your eye doctor will tell you whether you need new lenses. If you do get new lenses as a result of your eye appointment, then you can enjoy clear vision.

Eye health. Eye exams do more than check for visual acuity – they also check for eye diseases. Catching these diseases in the earliest stages can help you avoid serious vision problems down the road.
Contact Tolland Eye Care for Your Next Eye Exam
Eye exams in Tolland, CT can save your vision. See your eye doctor at Tolland Eye Care for your next eye exam.
Call today to make an appointment 1.860.871.6507.