Cataracts
---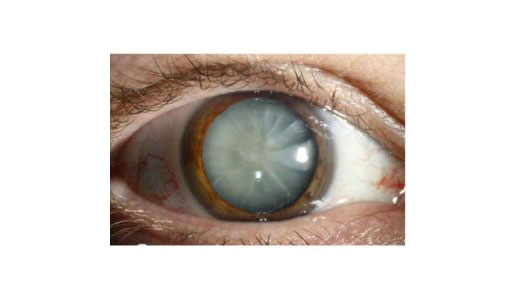 Cataracts affect many people as they age. Cataracts can impact your visual acuity, your ability to drive a car, your ability to navigate low-light environments and even your ability to see at all. Fortunately, cataracts are a treatable condition. Working with a qualified eye doctor, you can manage your cataracts and maintain a good quality of life. If you think you're being impacted by cataracts, speak with an eye doctor at Tolland Eye Care.
What Are Cataracts?
A cataract is a clouding of the lens of the eye. If you've ever looked through a frosted or foggy window, then you know what having cataracts is like.
Cataracts develop slowly. At first, it can be hard to tell whether you have a cataract. In the early stages, stronger lighting and eyeglasses can help you see through your cataracts. Eventually, you may need surgery.
Cataract Causes
Cataracts are often caused by age, but can also be caused by factors like injury to the tissues in the eye. Some people are at higher risk for cataracts than others (see below) and some people have inherited genetic disorders that can increase the risk of getting cataracts.
Cataract Treatment in Tolland CT
When you're first diagnosed with cataracts, your eye doctor may recommend prescription glasses. Eventually, your cataracts will become so severe that prescription glasses won't help. When you reach this point, your eye doctor may recommend cataract surgery.
You'll get cataract surgery when you and your eye doctor determine that your cataracts are interfering with your ability to perform normal activities, and thus interfering with your quality of life. If you choose to delay surgery, your eye doctor may request more regular checkups to determine how the cataracts are progressing.
Signs of Cataracts
You may be able to tell when you get cataracts – even in the early stages. Some signs and symptoms to watch out for include:
Sensitivity to light

Cloudy, blurry vision

Increasing difficulty seeing at night and driving at night.

Seeing halos around lights

Colors seem to have faded or yellowed

Need for brighter light when reading
These symptoms will be very subtle at first. Your eye doctor should be able to tell you when you have cataracts if you're going in for regular eye exams.
Who Is At Risk for Cataracts?
Everyone can get cataracts, but at-risk individuals may develop cataracts earlier in life and may find their cataracts progressing faster than others. Some risk factors include:
Diabetes

Increasing age

Smoking

Obesity

High blood pressure

Excessive exposure to UV rays

Eye surgery, injury or inflammation

Excessive drinking

Use of certain medications, especially prolonged use of corticosteroids
Need Cataract Treatment? Tolland Eye Care
You don't have to live with cataracts. To find out more about getting cataract treatment in Tolland, CT, contact the professionals at Tolland Eye Care. Make an appointment to get a diagnosis and learn more about the cataract treatment we can provide.