Testing – Optomap
---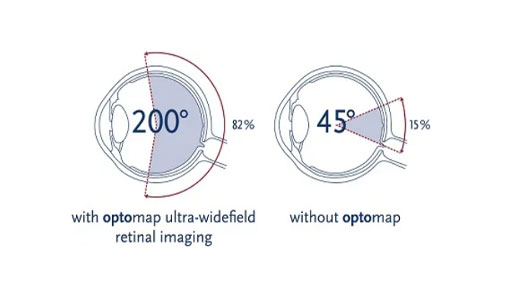 Optomap Eye Exams
Standard eye exams only see a small portion of the eye, but what if you could see a much larger portion of the eye using a revolutionary technology? At Tolland Eye Care, we offer Optomap retinal imaging to help our patients learn more about their eye health and avoid serious eye conditions at the same time. As your eye doctor we're proud to offer this important service to our patients in Tolland.
What Is Optomap?
Optomap is a diagnostic tool that gives eye doctors a view of the retina through an ultra-wide field, high-resolution image. Optomap images are like photographs that provide an accurate record of your eye health at the time the image was taken. In fact, one of the benefits of Optomap images is that patients can look back on the photographs of their eyes. Optomap images provide a reference for future use.
In addition, Optomap images take only seconds to acquire and provide 30% more information than traditional eye dilation. In other words, Optomap creates a simple way to see eye problems that could be occurring inside your eyes.
Who Benefits from Optomap?
Since Optomap images are easy to obtain – much easier than eye dilation – the eye doctors at Tolland Eye Care recommend that patients get yearly Optomap retinal exams.
Benefits of Optomap Eye Exams
There are many benefits of Optomap eye exams.
Comprehensive. Optomap images enable eye doctors to see up to 82% of the retina, to check for eye diseases and conditions.

Fast. Optomap images are much easier to obtain than the information that doctors can achieve through dilation.

May allow you to bypass dilation. Many people who get Optomap images are able to skip eye dilation as a part of their eye exams.

Comfortable procedure. Unlike eye dilation, taking an Optomap image is overall comfortable for patients.

Works for patients of all ages. Everyone is eligible to have Optomap images taken, including young children.
Frequently Asked Questions About Optomap
Are there side effects of Optomap?
There are no known side effects of taking pictures with the Optomap device. Images are taken by non-invasive, low-intensity lasers.
Why is it important to get a retinal exam?
Optomap makes it possible to see the first signs of a variety of conditions, including diabetes, stroke and certain types of cancer. Catching these conditions in their early stages can help you maintain a healthy body and healthy eyes.
Does Optomap hurt?
Optomap doesn't hurt.
Who should get an Optomap exam, and how often?
Your eye doctor can help you decide how often you should get an Optomap image taken, but overall, it's a good idea to get one taken every year when you get an eye exam.
Get Your Optomap Eye Exam Today
Eye exams can help our patients avoid serious eye conditions, and get early treatment for conditions found in the eye. Call today to make an appointment to get an eye exam with Optomap imaging.